History
Funai Electric has earned overwhelming trust in the digital consumer electronics industry for the high quality and cost performance of its products.
We have pursued various paths involving new business development and production method innovations on its way to the present.
Have a look at our road from its time of establishment to today.
1959
Transistor Radios
The start of production of the transistor radio led to the establishment of our predecessor, Funai LIGHT MACHINERY MFG. CO., LTD. Explosive growth followed, as the company concentrated on OEM sales to leading U.S. and European manufacturers.
1963
Open Reel-to-real Tape Recorders
The application of mechatronics technology, centering on control technology for the rotating mechanism, led to the development of a host of product manufacturing technologies.
1968
8-Track Car Stereos
Tape recorder for 8-track cartridges. Set a world record for unit production of 8-track car stereos.
1969
Home Stereos
Commenced production.
1971
Radio Cassette Players
Commenced production.
1980
CVC VCRs
Funai Electric led the world in the development of the compact video cassette recorder. Attracted a great deal of interest when Japanese television broadcasters used these for a program on climbing Mt. Everest.
1983
VHS Videos
Applied technology cultivated during the development of CVC to the development of the VHS video format.
Thereafter, succeeded in internalizing video deck mechanisms, including main parts such as motors and cylinders. Product competitiveness surged, and this became a major product underpinning the Company's rapid growth.
1985
TV/VCR Combos
One example of a CRT TV/video combination: the TV with internal video.
Major sales growth in the late 1990s to early 2000s, acquiring a share of more than 60% in North America.
1986
CRT TVs
Commenced production.
1987
Auto Bakeries
The world's first automatic bread-making machine, sold as the Raku Raku Pan Da.
The first such product to make a full-fledged entry into the Japanese market.
Earned top-selling product award as the Nikkei Inc. "best-selling product of the year awards."
Year marked a boom in the Japanese market for bread-making machines.
1999
DVD Players
In the 2000s, acquired a leading share of the North American market.
2000
DVD/VCR Combo
Video Integrated DVD Player
2002
LCD TVs
With a few years after commencing production, acquired top share of the North American market.
2004
DVD/VCR Recorder Combo
Video Integrated DVD Recorder - Production ended 2016. Previously held 100% market share in the United States.
2008
Blu-ray Disc Players
Commenced production of players meeting the next-generation optical disc standard, with higher quality than DVDs.
2009
Blu-ray Disc Recorders
Became a record-breaking hit in Japan ahead of the 2011 transition to digital terrestrial broadcasting.
2015
4K LCD TV
Introduced the sales of 4K LCD TVs in North America.
2016
4K BD Player
2017
Launched Funai brand
Launched Funai brand at Yamada Denki with exclusive sale contract.
2018
OLED
Launched OLED with built-in hard disk for the first time in history at Yamada Denki.
2019
Nail Art Printer "CureNel"
A unique product that allows anyone to easily print personalized designs and images on their nails.
2019
4K TV with tuner
2000
OLED Android™ TV with hard disc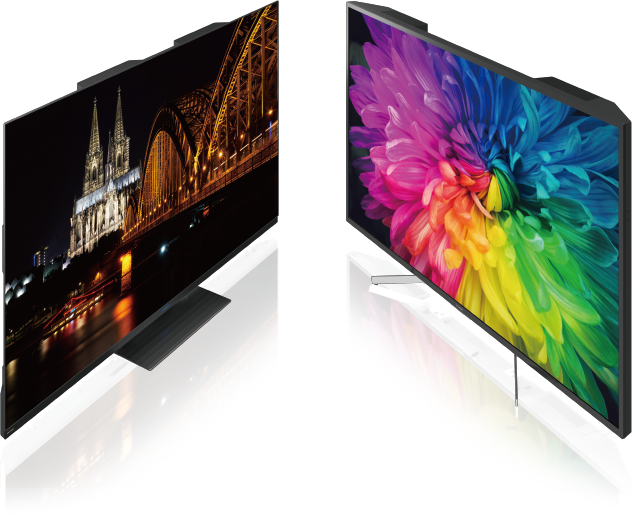 2021-
The era of choosing high image quality
Funai has a strong presence in the global AV market. In a fiercely competitive North American market, we have continually maintained a top share* of LCD TV shipments by Japanese manufacturers. In 2021, we aim to deliver an evolved entertainment experience with amazing colors, sound, and images in all our products.
*Source – Omdia, TV Sets Spotlight Service Q4'20. Market share based on unit shipments. Results are not endorsement of Funai Electric Co., Ltd. Any reliance on these results is at the third-party's own risk.